I honestly don't know where I wanted to post this, but since Kingdom Hearts generally has to do with animated Disney films, why not on the totally not dead TV forums?
If you've been living under a rock since 2002 or don't play video games, Kingdom Hearts is sort of a crossover video game series between Final Fantasy (another video game series with angsty drama) and every Disney property ever from Cinderella to Pirates of the Caribbean and everything in between. Honestly, Kingdom Hearts is sort of impenetrable and by sort of I mean fucking massively. It's basically a crossover fanfiction written by David Leemhuis that somehow got millions of dollars in budget and the support of Disney behind it. Though at this point, I wonder if Disney regrets having put their stamp of approval on it. And like a fanfiction written by David Leemhuis, it's bizarre in ways that are kinda brilliant when you view it as more than a sum of its parts.
I mean, if I were to describe the plot and the details to you, you'd likely be confused and indignant like I was when trying to research what happens in all 13(?) games. For you see, while the latest Kingdom Hearts is titled Kingdom Hearts 3, it isn't the third game in the series per-se. There are a lot of games in this series and each one is important if you want to follow the continuity of the story. To save time and sanity, I'm going to link you to a video that attempts to describe what happens in Kingdom Hearts and if you're interested, take 30 minutes out of you life to try and understand something I couldn't: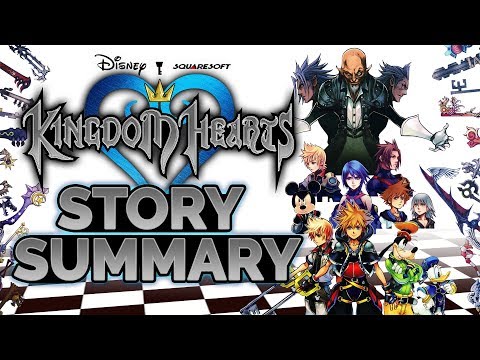 My recommendation when approaching Kingdom Hearts? View it as a set of themes set in Disney worlds rather than a cohesive narrative, you'll thank me later.
Anyway, instead of trying to make my point, I'm going to sum up Kingdom Hearts into one quote made by the protagonist (Sora):
"A heart can live anywhere, even inside data."
I mean, that's quite a silly quote if you think about it. There are no organs that pump blood in your tax returns. The actual context behind this quote is actually even more bizarre than what you think. But let's take it apart and view it as a set of themes. Hearts in Kingdom Hearts can basically be used as a synonym for empathy or your capacity to love. So what's this about it being inside data? Could it mean that there could be affection behind the act of creating data? Possibly, but I kinda want to dig deeper...
If you think about it, we are comprised of DNA which contains genetic data. So in a way, we are basically big blobs of data. Did you know that there's a love gene called the OXT gene which releases the hormone oxytocin, which in turn affects our social interactions. It's called the 'love gene' and you can read about it here: https://www.webmd.com/sex-relationships/news/20160621/love-hormone-gene-may-be-key-to-social-life
Kingdom Hearts as a game is all about social relationships and making friends and the sometimes tenuous nature we can have with them. Friends in Kingdom Hearts can be forgotten, they can be 'corrupted' (in human speak, turn selfish or against us) or we can become too attached to them as to ignore our own inner strength. So while the games may have bizarre storytelling, themes matter here more than the continuity bringing it all together.
It's our minds and our OXT genes that determine our quality of inner strength and personal relationships. In turn, love can exist inside data. Never forget the good times you had with friends, they won't last forever.
G'day!